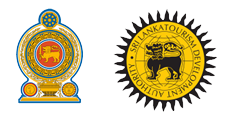 WELCOME!
Ayubowan! Welcome to the paradise island of Sri Lanka. As we open our doors to the world once again; we've pulled out all the steps, ensuring that every precautionary measure has been set in place to make your island getaway as safe, secure and serene as possible.!
By submitting this form, you understand the process that is implemented for tourism in Sri Lanka
Please see the cost for your registration below
| # | Description | Quantity | Sub Total |
| --- | --- | --- | --- |
| 1 | Insurance Fee | 1 | US$ 12.00 |
| 2 | PCR Test Fee | 1 | 40$ |
| | | Total | 52$ |
COVID - 19 Travel Registration
Frequently Asked Questions
Please contact your bank first and inquire why the card did not work. Before you make a payment, please make sure that your card is activated for online payments. Note that debit/credit cards issued by Sri Lankan banks will not work on the portal due to restrictions placed by the Central Bank of Sri Lanka. Please contact your bank for more information on this.
A confirmation will be sent from sltpbapp@srilanka.travel to your email. The email takes about 10 minutes to arrive after you complete your payment and return to the portal. Usually, it's faster. But if it doesn't arrive after 10 minutes, first, check the Spam / Junk folder of your email. If you are on an email client such as Gmail, do check the "Promotions" tab too in your Inbox for the confirmation email. If you still have not received the confirmation, then please send an email to
helloagain@srilanka.travel
with your reference number or passport number, name, and email.
A digital copy of the confirmation received through email is sufficient when you enter Sri Lanka. Make sure you have an offline version of the digital copy if you are planning to use a digital version.
It is valid for up to 30 days from the day you arrive in Sri Lanka. If you are staying for more than 30 days, you can extend the insurance coverage after you arrive by speaking to the insurance providers.
After one month the insurance provider must be directly contacted.
People's Insurance PLC
is the local insurance provider in Sri Lanka. After the request is put forward, the insurance provider will take it up for consideration and announce the decision. If permitted then the insurance can be extended for another month. Those wishing to extend their insurance can contact the local insurance provider in Sri Lanka via:
alokaf@plc.lk
All vaccines approved by the World Health Organization or the relevant authority of the country you receive the vaccination from are accepted in Sri Lanka. If the list does not have the type of vaccination, please email
helloagain@srilanka.travel
with details.